Garbage Disposal Service
A garbage disposal clogged is a common problem. Many things can contribute to a disposal becoming stopped up. One of the main reasons is that many homeowners do not know what can and cannot be grinded. Waste such as potato peels, egg shells, or large pieces of food need to be placed in a garbage and not down your sink.
Once you decide on your ideal disposal, you will need to have it installed. Sugar Land Water Heater technicians are trained in various areas of installation and know how to install a garbage disposal. After we help you find your ideal system, we can schedule an appointment with you to have one of us come to your home and install your new appliance. If you need it immediately, no problem. We also offer a 24/7 emergency service, so once you place your phone call, a technician will be at your door in minutes to solve your problem.
Garbage Disposal Maintenance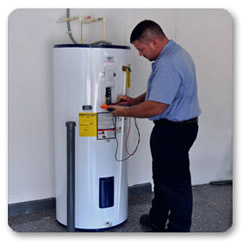 There are many different types of disposals to choose from, and there are many factors to consider when looking for one. It is important to find the model that best fits your home. If you have children, then a batch feed disposal might be the best option for your family. These require a stopper before you are able to turn them on. Disposals are powerful appliances, and the batch feed greatly lower the risk of your child possibly having an accident.
A continuous feed disposal is another one that is a common choice for consumers. These units turn on with the flip of a switch and remain active even after they are switched off. These work well if you plan on grinding large amounts of food waste in succession. If you are not sure what which one is right for you, call Sugar Land Water Heater and one of our experienced technicians will help you pick out the perfect model, and come to you to install garbage disposal