Professional Drain Unclogging and Inspection
Hot water heater leaking can be a major problem, and it is something that should be taken care of immediately. It does not take much water to do damage to your floors. Furthermore, this could be a sign of a much more major problem. If you notice your hot water heater leaking, call Sugar Land Water Heater immediately.
A water leak can cause major damage if left untreated. Your floors can become soaked and create a mildew odor throughout your house, and it will cause your water bill to skyrocket. If you are sure that you have a water leak, it is important to turn the water off as soon as you notice it. After that, call a professional to take care of it.
Tank Leaks Fixed In Minutes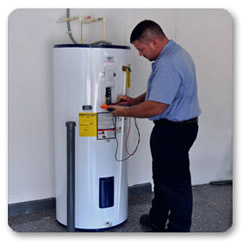 You could be heading out to a Sugar Land Skeeters game when you notice your leaking water heater. Instead of changing your plans, call us to receive a free quote over the phone and have a trained repairman on the way in minutes. A professional can inspect your heater, fix the leak, and let you know if it might be time to start looking for replacements.
It is important to fix a hot water tank leaking. The damp areas caused by leaks can also begin to mold and present serious health problems. Furthermore, if untreated, it can lead to bigger problems. You do not want a leak to turn into a flood that ends up damaging your house and ruining your water heater. As soon as it happens, call us to get it resolved, no matter what time or day it is.